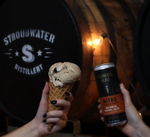 We love a good collab!
Over the years, we have had a blast working with some of the finest craft producers around, to showcase their products in the 'coolest' ways. Do you make a product you'd like to taste in ice cream? Let us know! 
Pictured: Our three-way collab with Portland, Maine based Stroudwater Distillery and Rwanda Bean Coffee resulted in a new cheers-worthy flavor, Bourbon Barrel-aged Coffee Pow.