Rococo Ice Cream is more than delicious ice cream; it's about opening your mind and expanding your palate to new flavors, different cultures, and dynamic experiences with each taste. Rococo Ice Cream was founded in Kennebunkport, Maine in 2012 by Lauren Guptill. A 10th-generation Mainer, Lauren has always been deeply in love with her state, but at a young age she was also taken with a desire to see the world outside her home. This brought her to live in Argentina for several years in her 20s. It was here, among the heladerias and the vibrant energy of Buenos Aires that the inspiration for Rococo Ice Cream was born. The name, Rococo, stems from the late Baroque period, an era of art established in 18th century France and Italy. Famous artists and architects like Francois Boucher and Bartolomeo Rastrelli became well-known for their ornate and unconstrained creations which broke from the strict social confines of the Neoclassical period. Drawing her own inspiration from this art movement, Lauren designs ice cream flavors that serve not only as delicious desserts but as an example of beauty. A beauty that encapsulates the whimsical and creative essence of the artist in her kitchen.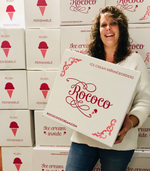 A WOMAN-OWNED AND OPERATED BUSINESS
Rococo Ice Cream has become a favorite stop among the local community of Southern Maine and our guests from around the globe. Lauren continues to compose inventive flavors that expand upon global culinary trends with a desire to introduce visitors to flavor profiles from every corner of the world. We draw our inspiration from the spice markets of North Africa, to the villages in the French Alps, to the bustling barrios of South America. Rococo ice cream is made in Maine yet inspired by travel.
Rococo is an innovative source of excellent quality ice cream that continuously remains a delicious treat for lazy summer afternoons. In addition to being awarded the sixth-best ice cream shop in the nation in 2014 by TripAdvisor, Rococo Ice Cream continues to draw national and international attention to its exotic and innovative flavor profiles.
Flavours of Rococo have found their way into your vacations, your weddings, your traditions, your home freezers, and into your hearts. Whether you've had one sweet scoop or 10 years of tasty treats, thank you for being our friends, embracing our style and sharing with us your encouragement, good taste and adventurous spirit. I am grateful for you!
International accolades include a feature story and recipes in the esteem Arte Heladero, a Spanish publication for European and Latin American ice-cream aficionados; A write-up in the esteemed La Presse newspaper from Montreal; and a feature on Direction la Mer a travel show on the Évasion Channel. Rococo Ice Cream has also been featured in national publications such as Woman's Health, Food and Wine, Costal Living, and Town & Tide; a Kennebunkport-inspired guide that features an interview about Lauren's creative process as well as recipes.
Having a vast global palette to draw up new flavors, Lauren is excited about the future of Rococo Ice Cream as she explores new neighborhoods of the world for flavor inspiration.  In her free time, she is working on her first recipe book, in the hopes of inspiring both amateur ice-cream eaters along with connoisseurs to bring a little more art, culture and flavor into everyone's favorite summertime treat.